TRANSPORTATION: THE KEY TO HEALTHY AGING IN PLACE
Enriching Lives. That's what Drive a Senior Central Texas is all about. The greater Austin area has one of the fastest growing populations of adults over 60 in the U.S. and many of those older adults no longer drive.
Recently, Drive a Senior South Austin and Drive a Senior Southwest joined forces to better serve seniors in their regions. On April 1, 2019, the two regions combined to create one organization. Our new name, Drive a Senior Central Texas (Drive a Senior CTX) better reflects the combined areas we serve. As a member of the Drive a Senior Network, Drive a Senior CTX supports the mission of enriching lives and communities by providing volunteer-based transportation and socialization services at no cost to seniors who no longer drive, helping them to achieve healthy and active aging in place. We drive seniors age 60 and older to grocery shopping, medical and wellness appointments and, just as important, to other activities that are vital for their continued well-being.
"Our goal is to increase the number of seniors served and expand our service areas into currently underserved regions. Combining the two organizations will enable us to take advantage of the synergies and operational efficiencies. At the same time, we will continue to serve our clients with the same compassion and care they have been shown historically," said Mary Sue Clyne, new chair of the combined organization.
See the map below to view the new Central Texas service area.
WEEKLY VAN SCHEDULE
Passengers who want to ride with the vans need to reserve their seats in advance by calling 512-364-6501 or 512-445-5552.
MON
(a.m.) HEB at Bee Cave and 71
(p.m.) HEB at Westlake and 360
TUE
(a.m.) HEB at Bee Cave and 71
10:30 am WellMed Class (W. Ben White Blvd)
WED
Future Dripping Springs Van Day
(a.m.) HEB at Escarpment/Slaughter Lane
THU
(a.m.) HEB. Hwy 71 at the Y in Oakhill
10:30 am WellMed Class (W. Ben White Blvd)
FRI
South Austin Sr. Activity Center for Bingo
Central Texas
Serving a broad section of South and West Austin, our region covers part of Cesar Chavez then south of Ladybird Lake and west of the Colorado River. It includes West Lake Hills, Rollingwood, Lost Creek, Barton Creek, Bee Cave, Lakeway, The Hills. To the east  we go to Pleasant Valley Road, serving Barton Hills, Zilker, Bouldin, Travis Heights, South Congress, South Lamar, Westgate, Sunset Valley, Oak Hill, Garrison Park, South Park Meadows, Circle C and Western Oaks. We are expanding down Hwy. 290 into parts of Dripping Springs.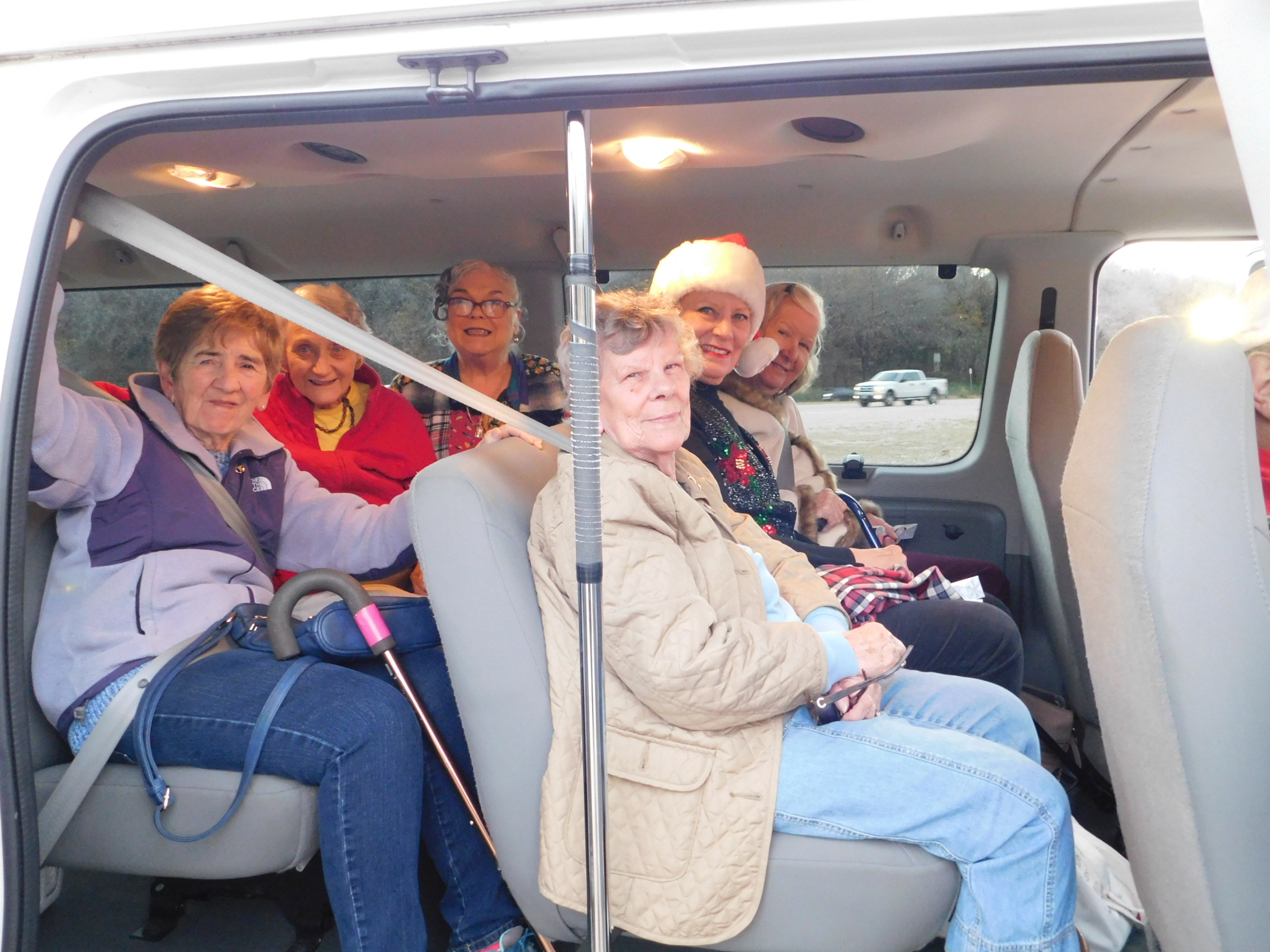 Our growing van program
Thanks to the generous support of St. David's Foundation, we continue to expand our efforts to help seniors age in place and provide our clients a chance socialize and shop.
VOLUNTEER SOME OF YOUR TIME: Even if driving's not your cup of tea there are a world of ways to help your homebound senior neighbors. Are you good with a wrench? Join our brigade of part- time handymen. Like to visit? Make occasional home visits; they're always welcome. Like spending time on the phone? Check in with a senior neighbor who'd love a chat? How about helping out in our office part time? Assisting in our next fund-raiser? Passing out flyers? If you have the time, we have the task.
PROVIDE FINANCIAL SUPPORT: Donations make it possible for Drive a Senior to serve our nearby senior citizens and to plan to continue that service  as the needs grow.
Healthy Aging Donations …
Please help us help your family members, friends and neighbors maintain their independence and quality of life when they no longer drive!
Spread that smile around …
AmazonSmile is a simple and automatic way for you to support Drive a Senior Central Texas every time you shop. Amazon will donate a portion of the purchase price directly to us simply by choosing Drive a Senior Central Texas from their approved list.
Just Click Here and enter your email and Amazon password.
Reward us too …
You already save money with your Randall's Remarkable card. But you can also make money for Drive a Senior Central Texas with your grocery purchases. Visit the Courtesy Booth at your Randall's and add our number (below) to associate our cause with your card. Randall's will send a check  for 1 per cent of all grocery purchases by Remarkable Card holders who add our number. You only need to add the number once. Here's that number: 012531 
DRIVE A SENIOR CTX
6705 West Highway 290  #50268  |  Austin, Tx. 78735

ctx@driveasenior.org
512-364-6501 or 512-445-5552
EIN #: 26-2735793

OUTREACH & DEVELOPMENT MANAGER  | Jodi Allen
FINANCE AND DATA MANAGER | Ana Martinez
OPERATIONS MANAGER | Ashley Razook
SERVICES COORDINATORS | Sarah, Hallman, Mary Kathryn Kane, Beverly Malone, Laura Ray 
VAN COORDINATOR | Mary Kathryn Kane
BOARD
CHAIR | Mary Sue Clyne
CHAIR ELECT | To Be Confirmed
SECRETARY | Vibha Prasad
TREASURER | Martha King
IMMEDIATE PAST CHAIR | To be filled in 2020
MEMBERS | Cyndi Cummings, Roger Hamm, Morgan Harrell, Dolores Hibbs, Paula Klante, Kristen LeClair, Pat Liston, Ginny Murphy,
Cathy Romano, Maggie Sayre, Hanna Senko, Joseph Vasquez
EMERITA MEMBERS | Kerri Oswald, Mary Pat Smith


Supporting Congregations:
Abiding Love Lutheran Church  |  Bethany Lutheran Church  |  Faith Presbyterian Church  |  Redeeming Grace Lutheran Church  |  St. Ignatius Martyr Catholic Church  |  St. John Newmann Catholic Church  |  Westlake Hills Presbyterian Church  |  Westlake United Methodist Church