Drive a Senior Central Texas enriches lives and communities by providing transportation and socialization to non-driving seniors, at no cost, helping them to achieve healthy and active aging in place.

What a great event!
Thank you to all who attended and donated.
Many thanks to Earl Maxwell, CEO of St. David's Foundation, for serving as our keynote to kick off our "Driving Change to Meet the Challenge" campaign! But, it's not too late to be a part of our fundraising drive. All donations made through December 31, 2019 will help us meet our $40,000 goal for free transportation for seniors in Central Texas.
A big shout out to our Table Sponsors!

Mary Sue and Bob Clyne  |  Larry and Kim Graves  |  Paula and Peter Klante |  Roger and Elaine Hamm  |  Janice Kolbe  |  Bill and Toni O'Brien  |  Kerri and Bill Oswald  |  Hanna and Lou Senko
Volunteer Driving is Easy!
No minimum weekly commitment
Drivers fit trips to their schedules
Rides can be set up online
Family members can ride along
Other Volunteer Opportunities
Sometimes we need assistance in other ways. If you would like to help, be sure to tell our Service Coordinators about your special skills and expertise.
Support your friends and neighbors.

Amplify your gift in March 2020.

Central Texas
Serving a broad section of South and West Austin, our region covers part of Cesar Chavez then south of Ladybird Lake and west of the Colorado River. It includes West Lake Hills, Rollingwood, Lost Creek, Barton Creek, Bee Cave, Lakeway, The Hills. To the east  we go to Pleasant Valley Road, serving Barton Hills, Zilker, Bouldin, Travis Heights, South Congress, South Lamar, Westgate, Sunset Valley, Oak Hill, Garrison Park, South Park Meadows, Circle C and Western Oaks. We are expanding down Hwy. 290 into parts of Dripping Springs.
OUR GROWING VAN PROGRAM
Thanks to the generous support of St. David's Foundation, we continue to expand our efforts to help seniors age in place and provide our clients a chance socialize and shop.
WEEKLY VAN SCHEDULE
Passengers who want to ride the vans need to reserve their seats in advance by calling 512-364-6501 or 512-445-5552.
MON
HEB at Westlake and 360
TUE
HEB at Bee Cave and 71
10:30 a.m. WellMed Class (W. Ben White Blvd.)
WED
HEB. Hwy 71 at the Y in Oak Hill
HEB at Escarpment/Slaughter Lane
THU
Dripping Springs Van Day
10:30 a.m. WellMed Class (W. Ben White Blvd.)
FRI
South Austin Sr. Activity Center and Walmart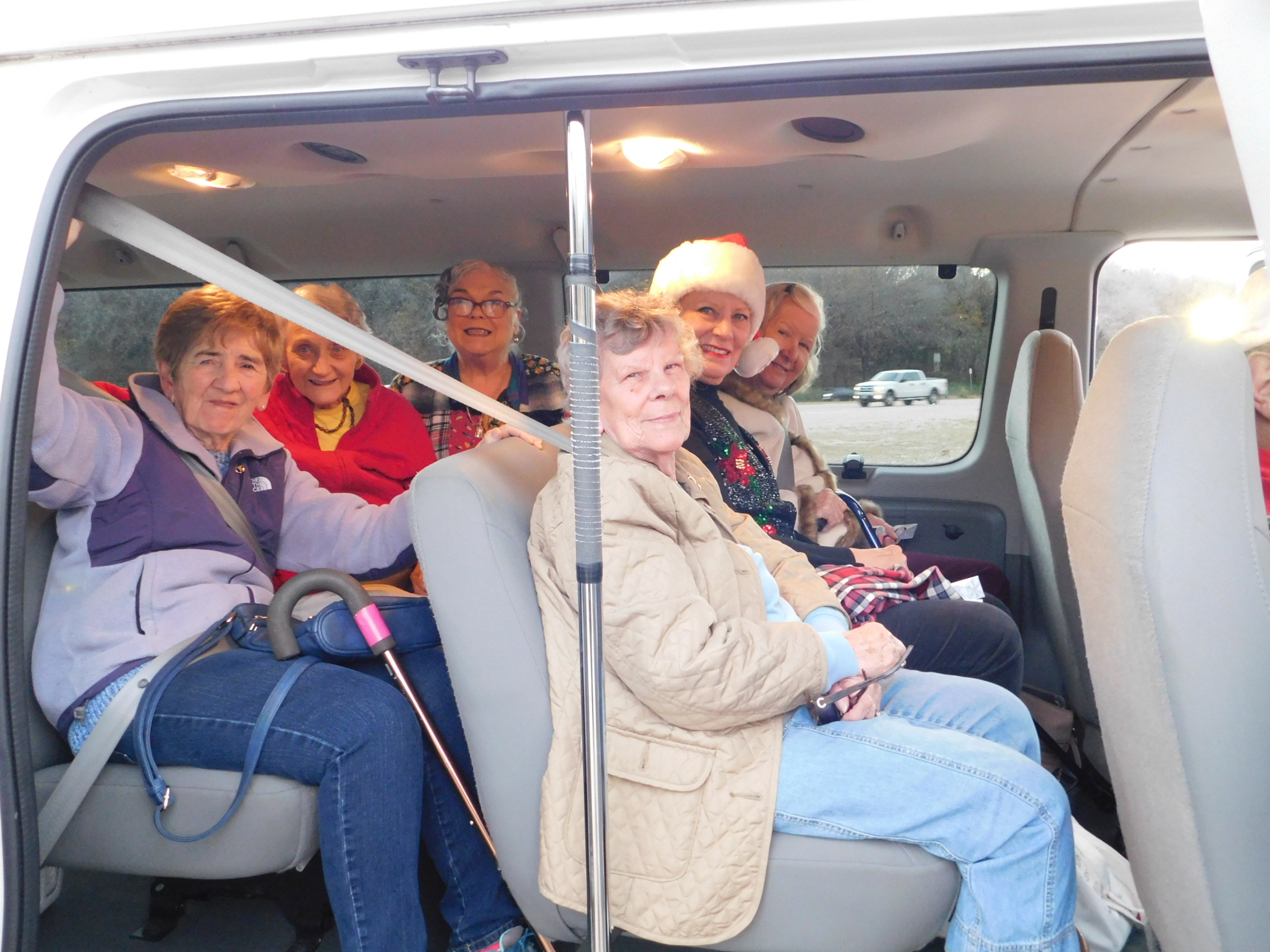 DRIVE A SENIOR CTX
6705 West Highway 290  #50268  |  Austin, TX 78735

ctx@driveasenior.org
512-364-6501 or 512-445-5552
EIN #: 26-2735793

EXECUTIVE DIRECTOR  |  Nicole Sarkar
OUTREACH & DEVELOPMENT MANAGER  | Jodi Allen
FINANCE AND DATA MANAGER | Elizabeth Hunt
OPERATIONS MANAGER | Ashley Razook
SERVICES COORDINATORS | Sarah Hallman, Beverly Malone, Laura Ray, Caroline Schaefer, Alice Traugott 
VAN COORDINATOR | Beverly Malone
BOARD
CHAIR | Mary Sue Clyne
CHAIR ELECT | To Be Confirmed
SECRETARY | Vibha Prasad
TREASURER | Martha King
IMMEDIATE PAST CHAIR | To be filled in 2020
MEMBERS | Cyndi Cummings, Roger Hamm, Morgan Harrell, Dolores Hibbs, Paula Klante, Kristen LeClair, Pat Liston,
Cathy Romano, Maggie Sayre, Hanna Senko, Joseph Vasquez
EMERITA MEMBERS | Kerri Oswald, Mary Pat Smith


Supporting Congregations:
Abiding Love Lutheran Church  |  Bethany Lutheran Church  |  Faith Presbyterian Church  |  Redeeming Grace Lutheran Church  |  St. Catherine of Siena Catholic Church  |  St. Ignatius Martyr Catholic Church  |  St. John Newmann Catholic Church  |  Westlake Hills Presbyterian Church  |  Westlake United Methodist Church