THE JOY OF CARING FOR THE WELL-BEING OF OTHERS
Enriching Lives. That's what Drive a Senior North Central is all about. The greater Austin area has one of the fastest growing populations of adults in the U.S. aged 65 and over and many of those older adults no longer drive. With your help, we provide free rides to seniors in North Central Austin and enable them to continue to live in their own homes as long as they desire and are able to safely.
We drive seniors to their medical and wellness appointments, grocery stores, the post-office and other everyday errands you and I take for granted.
These commitments and activities are vital for their well-being and allow them to live more independent lives.
Interested in volunteering? Send us an email! director-nc@driveasenior.org 
Serving seniors aged 65 or older living in the central corridor of Austin from 45th Street to SH 45 tollroad; west of I-35; east of Burnet Road and MoPac.
This includes Crestview, North Loop, Georgian Acres, Domain, North Lamar, Tanglewood Estates, Gracywoods, Walnut Creek, Quail Creek, Lamplight Village, Wells Branch, Scofield Farms and several other neighborhoods.
Do you have a heart for Seniors?
Drive a Senior North Central has opportunities for people to pair their passion for serving seniors with our mission to enrich their lives.
We are currently seeking members to join our Board that have talents in Marketing, Development, Fundraising and General Nonprofit support.
Email director-nc@driveasneior.org for more information and to apply.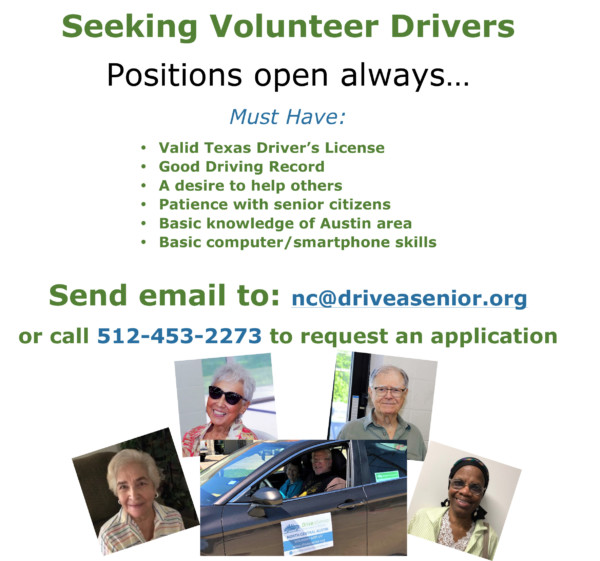 SHARE YOUR TIME: Even if driving's not your cup of tea there are a world of ways to help your home bound senior neighbors. Are you good with a wrench? Join our brigade of part- time handymen. Like to visit? Make occasional home visits; they're always welcome. Like spending time on the phone? Check in with a senior neighbor who'd love a chat? How about helping out in our office part time? Assisting in our next fund-raiser? Passing out flyers? If you have the time, we have the task.
FINANCIAL SUPPORT: Donations make it possible for Drive a Senior to serve our nearby senior citizens and plan to continue that service as needs grow. You can donate to Drive a Senior – North Central Austin. And there are other ways to contribute by doing things you normally do.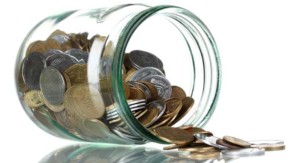 Give Direct
Please help us help your family members, friends and neighbors maintain their independence and quality of life when they no longer drive! As a 501(c)(3) non-profit, most donations to Drive a Senior are tax deductible.
Spread That Smile
AmazonSmile is a simple and automatic way for you to support Drive a Senior North Central every time you shop. Amazon will donate a portion of the purchase price directly to us simply by choosing Drive a Senior North Central from their approved list.
Just click here, enter your email and Amazon password
YOUR LOCAL DRIVE A SENIOR
901 Braker Lane, Austin, TX 78758
(at the Vincentian Family Center's Office Suites (next to McBee Elementary)
Mailing Address: PO Box 660058, Austin, TX 78766
Email: nc@driveasenior.org
Phone: 512-453-2273
Office Hours: Monday – Friday 9:00am – 12:00pm

SERVICES COORDINATOR | Charis Fleming

2020 BOARD
PRESIDENT | MaryAnne Longenecker
VICE PRESIDENT | Randy Kerkman
SECRETARY | Judy Hughes
TREASURER | Eleanor Langsdorf, Co-Treasurer
TREASURER | Rollie Sidla, Co-Treasurer
MEMBERS |  Wanda Alexander, Suzanne Colwell, Anne Flusche, Gloria Garcia, Anne Kuempel, Lloyd Langsdorf, Tonna Marcyes
We appreciate the generous support of congregations and businesses in our region.
CONGREGATIONS
Crestview Baptist Church
Crestview United Methodist Church
Episcopal Church of the Resurrection
Faith Lutheran Church
First English Lutheran Church
First Unitarian Universalist Church
Gethsemane Lutheran Church
Hyde Park Christian Church
Brentwood Bible Church
Redeemer Lutheran Church
St. Albert the Great Catholic Church
St. John's Episcopal Church
St. Louis King of France Catholic Church
St. Mark United Methodist Church
Trinity United Methodist
BUSINESSES
38th Street Pharmacy
Austin Beerworks
Austin Subaru
CapMetro
Crowne Plaza Hotel – Austin
Friends of the Forest Foundation
H-E-B
I Live Here, I Give Here – Amplify Austin
Lagunitas Brewing Company
Little Deli
Perfect Pooch Grooming
Romano's Macaroni Grill – Great Hills
Russell Korman
Shiner Smokehouse
St. David's Foundation
The Junior League of Austin