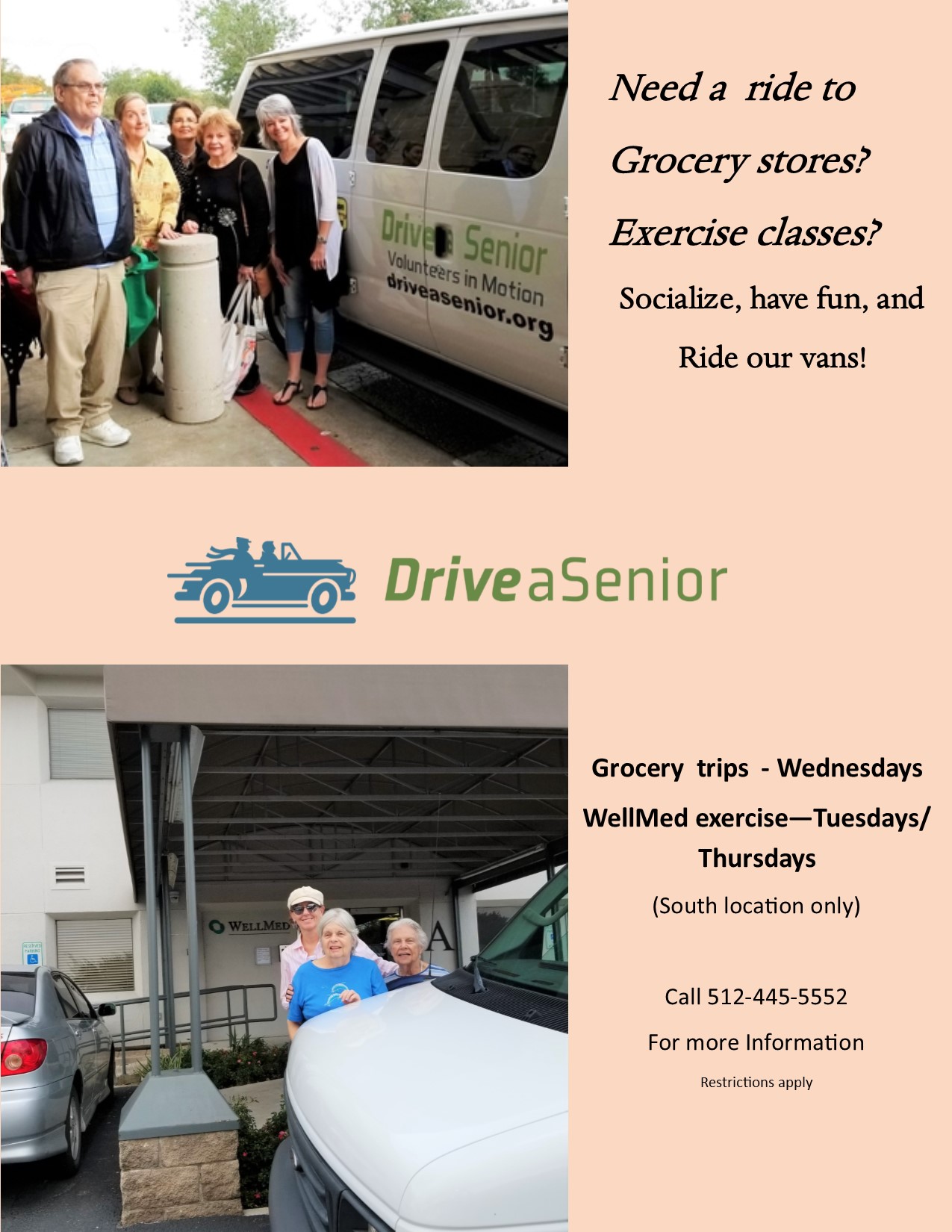 Thanks to the Trail Foundation for allowing Drive A Senior to take several vans of seniors thru the Trail of Lights.  The seniors had lots of fun and were very appreciative to see all the lights!  A great time was had by all.
Calling all volunteer drivers
Want to hear great stories? Make a difference in your community? We have just the way! Seniors who no longer drive are in great need of transportation to their medical appointments, the grocery store — all the same places you and I get in our car and go to without a second thought. Just imagine not having that freedom. Seniors without wheels either go without, or go at the convenience of someone else, if there IS someone else. For many of our senior passengers, we are their 'someone else.' Drive when and where you're available with no minimum time commitments. It's easy to Pay it Forward!!!
Contact Stephanie Braddock 512.445.5552 
austin SOUTH
Seniors must be 65 or older, no wheelchairs, and living independently. (Please contact us for other qualifications.) We serve primarily south of Cesar Chavez, west of Pleasant Valley Road and east of Hwy.290/71 W. This region includes the neighborhoods of Barton Hills, Zilker, Bouldin, Travis Heights, South Congress, South Lamar, Westgate, Sunset Valley, Oak Hill, Garrison Park, South Park Meadows, Circle C and Western Oaks.
Other ways you can help ….
SHARE SOME OF YOUR TIME: We need committed board and committee members to help us grow our organization. Enjoy planning fun activities? We need help with planning and facilitating fundraisers and client events. Enjoy meeting people? Help us get the word out to our South Austin businesses and neighborhoods.
PROVIDE FINANCIAL SUPPORT: Donations make it possible for Drive a Senior to serve our nearby senior citizens and to plan to continue that service  as the needs grow. There are numerous giving options, among them:
Spread that smile around…
Make Drive a Senior – South the recipient of your Amazon Smile program and whenever you make a purchase Amazon sends  us a "finders' fee." Just visit smile.amazon.com and select South Austin Caregivers to receive donations from eligible purchases before you begin shopping. After you're registered your smile.amazon.com purchases will result in a donation. Donations do not increase your purchase price. You shop … Amazon gives!
Join our new
'Circle of Aging'
pledge program
Our monthly pledge program is a community of monthly donors committed to helping us help others while keeping our services free of charge to all clients regardless of their ability to pay. Members are recognized in publications, events and an annual Circle of Aging member celebration. We provide postage-paid envelopes to mail in monthly donations – in any amount. Membership is voluntary and there is no contract to sign. Contact sa@driveasenior.org for more information.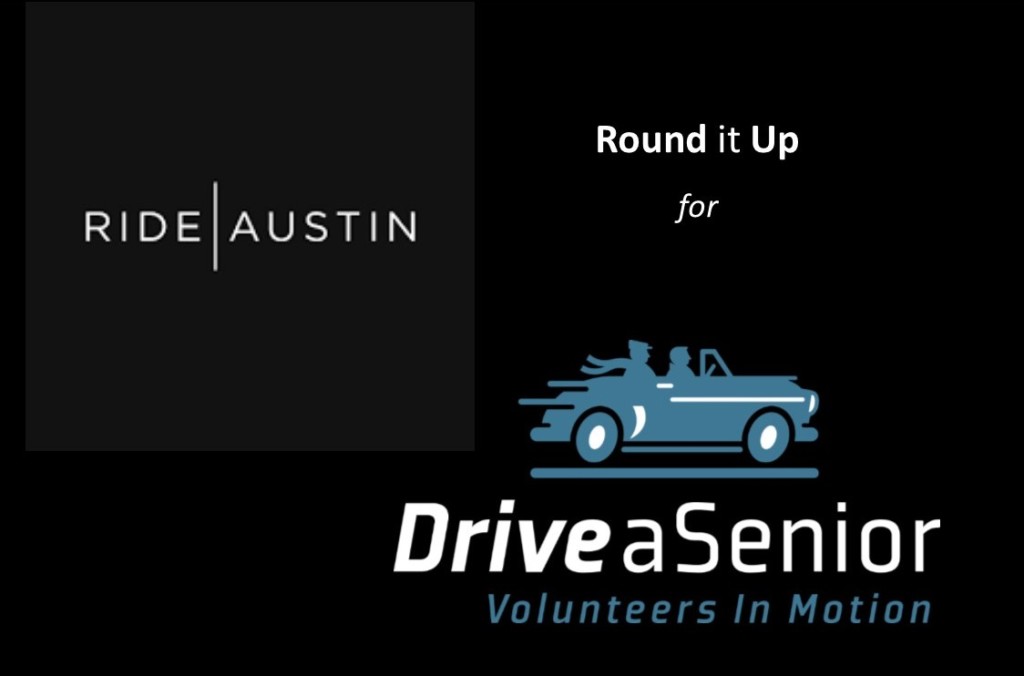 ---
The next time you need to get around in Austin, leave the driving to Ride | Austin and  'Round Up' for Drive a Senior in the app. We get the difference between your fare and the next whole dollar. Your extra change will make a difference to many older adults! Every time.
An extra Reward …
You already save money with your Randall's Remarkable card. But you can also contribute to Drive a Senior – every time you buy groceries. Visit the Courtesy Booth at your Randall's and add our number (below) to associate our cause with your card. Randall's will send a check  for 1 per cent of all grocery purchases by Remarkable Card holders who add our number. You only need to add the number once. Here's that number: 4452 
YOUR LOCAL DRIVE A SENIOR
Drive a Senior – South Austin
3903 S. Congress,#40056, Austin, Texas 78704
sa@driveasenior.org
512.445.5552

REGIONAL DIRECTOR | Stephanie Braddock
SERVICES COORDINATORS | Laura Ray
Board
BOARD PRESIDENT/CEO | Hanna Senko
Vice President | Joseph Vasquez
Treasurer | Barbara Gittinger
Secretary | Vibha Prasad
Members |  Morgan Harrell, Sarah Atnipp, Dolores Hibbs, Martha Loer
We appreciate the generous support of these congregations ….
Abiding Love Lutheran Church
Bethany Lutheran Church
Faith Presbyterian Church
Redeeming Grace Lutheran Church
St. Ignatius Martyr Catholic Church
…. and these additional supporters
Drive a Senior Circle of Aging members
St. Catherine of Siena Catholic Church
St. Catherine of Siena Catholic Church Knights of Columbus
St. Catherine of Siena Catholic Church Ladies Auxiliary Council 8156
Coming of Age Austin
South Austin AARP