Everyone deserves respect and dignity. Come learn about the issues faced by older LGBTQ+ adults and how to better care for them as they age.
About this Event
Presenting sponsor, The Auberge, along with Mir Care Consultants, Inc. and other community partners are excited to host Dallas-based nonprofit, EDUCARE Inc.'s Bridge Building Network, in providing an all-day workshop, panel discussion, and viewing of the documentary film "Gen Silent". The event will take place on Tuesday, October 29th at First Baptist Church in downtown Austin.
The event will be comprised of community members, healthcare advocates, and representatives from the LGBTQ+ community in Austin. We will be discussing issues faced by older LGBTQ+ adults and the resources available to them as well as facilitate an open discussion about how to best support older LGBTQ+ adults as they age. The workshop will be geared toward guiding and educating healthcare professionals in becoming more welcoming to the older adult LGBTQ+ community. We believe that with cultural competency and increased compassion, we can improve the lives of the people in our care.
This program will offer continuing education credits for various professions as well as certificates of attendance. We look forward to seeing you there!
For tickets and more info: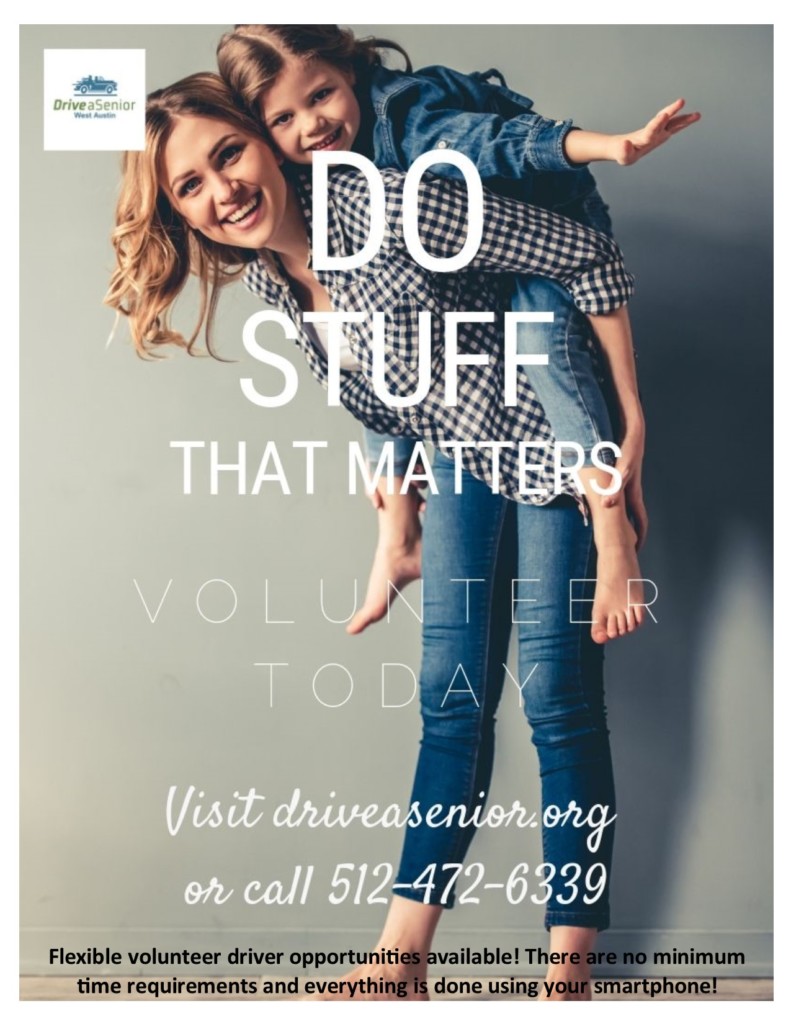 WE NEED VOLUNTEERS!
Please help us meet the increasing need to fill medical rides: invite your friends to sign up to be a volunteer driver!
Right now we are running a new volunteer promotion! If you refer a friend and they take their first drive within 30 days of their training, you BOTH get a $25 VISA gift-card! Please make sure to mention this promo when signing up!
The senior population is rapidly growing and our weekly ride count is at a RECORD HIGH! We are not able to provide all of our clients with the rides they need; we are increasingly ordering taxi cabs to fulfill rides. Although we have a generous grant from CapMetro to absorb this cost, we want to maintain the special and meaningful volunteer-driver experience. We can only do this with more drivers! Your help with recruitment is greatly appreciated!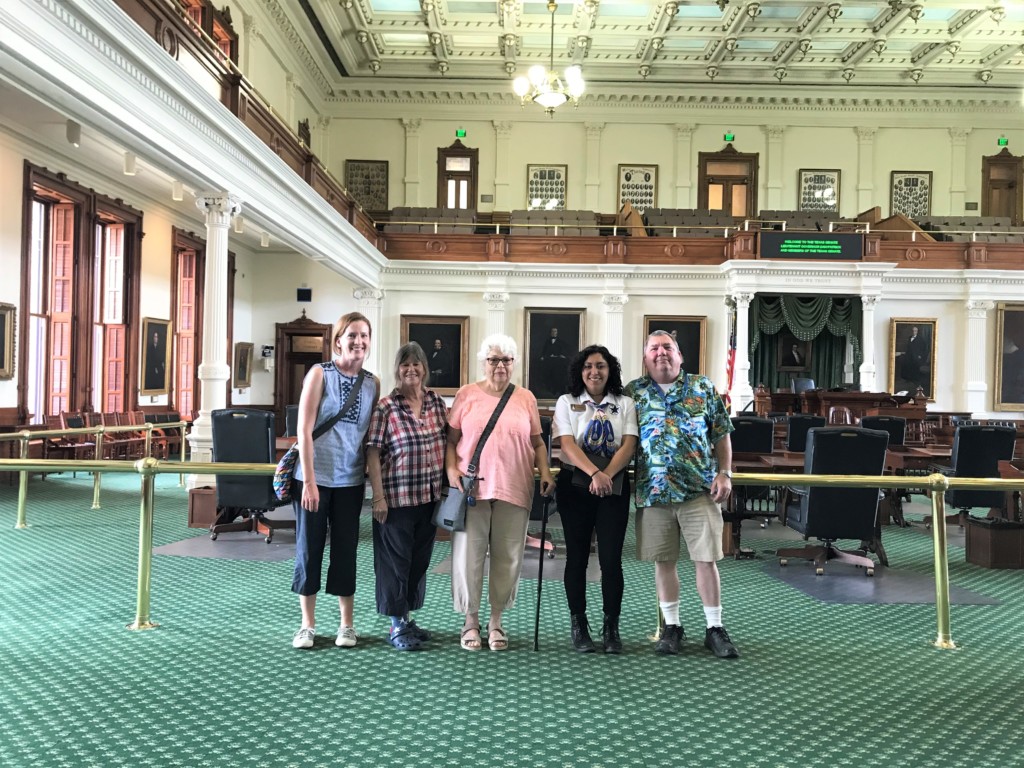 Drive a Senior West Austin volunteer driver and clients enjoy a tour of the Texas senate chamber with the most knowledgeable Texas Capitol tour guide
Senior Social Club Success!!
This summer's Senior Social Club field trips were so successful, we are continuing them into the fall.  Join us for a new selection of fun things to do in Austin in October.  Take a ride in our van for a variety of outings and activities. These rides are planned by zip code to make pick-up and drop-off efficient. Check out the calendar and call to reserve a spot.  Space is limited and trips may have small costs (such as lunch).
Call to reserve a spot: 512-472-6339
austin WEST
Bounded by the Colorado River to the west and south and Loop 360 and US 183 to the north, this region serves downtown Austin as well as Central Austin, Old West Austin, Hyde Park, Rosedale, Tarrytown, Allandale, Northwest Hills and North Shoal Creek.
WEEKLY VAN SCHEDULE
MON
78751, 78756, 78757, 78758, 78759
HEB (Far West) | Walmart (Northcross)
TUE
WED
78701, 78703, 78705, 78731
HEB (Far West) | Walmart (Northcross)
THU
FRI
Van passengers need to reserve their seats at least three business days in advance by phoning 512.472.6339. All are morning trips.
How you can help ….
SHARE SOME OF YOUR TIME: Even if driving's not your cup of tea there are a world of ways to help your homebound senior neighbors. Are you good with a wrench? Join our brigade of part- time handymen. Like to visit? Make occasional home visits; they're always welcome. Like spending time on the phone? Check in with a senior neighbor who'd love a chat? How about helping out in our office part time? Assisting in our next fund-raiser? Passing out flyers? If you have the time, we have the task.
PROVIDE FINANCIAL SUPPORT: Donations make it possible for Drive a Senior to serve our nearby senior citizens and to plan to continue that service  as the needs grow. You can donate to Drive a Senior – West Austin online here. And there lots of other ways a little contribution can turn into a lot of rides, such as:
Spread that smile around…
Make Drive a Senior – West Austin the recipient of your Amazon Smile program and whenever you make a purchase Amazon sends  us a "finders' fee." That way everybody smiles.
RideShare … and share with us
The next time you venture into Austin, leave the driving to Ride Austin and  'Round Up' for Drive a Senior in the app. We get the difference between your fare and the next whole dollar. Every time.
Reward us too …
You already save money with your Randall's Remarkable card. But you can also make money for Drive a Senior with your grocery purchases. Visit the Courtesy Booth at your Randall's and add our number (below) to associate our cause with your card. Randall's will send a check  for 1 per cent of all grocery purchases by Remarkable Card holders who add our number. You only need to add the number once. Here's that number: 7670 
Congregation Agudas Achim
Covenant Presbyterian Church
Episcopal Church of the Good Shepherd
First Presbyterian Church
First United Methodist Church
Highland Park Baptist Church
Hillcrest Baptist Church
Hyde Park Baptist Church
Shalom Austin
NW Hills United Methodist Church
St. David's Episcopal Church
St. John's United Methodist Church
St. Matthew's Episcopal Church
St. Theresa's Catholic Church
Tarrytown United Methodist Church
The Sanctuary
Westminster Presbyterian Church