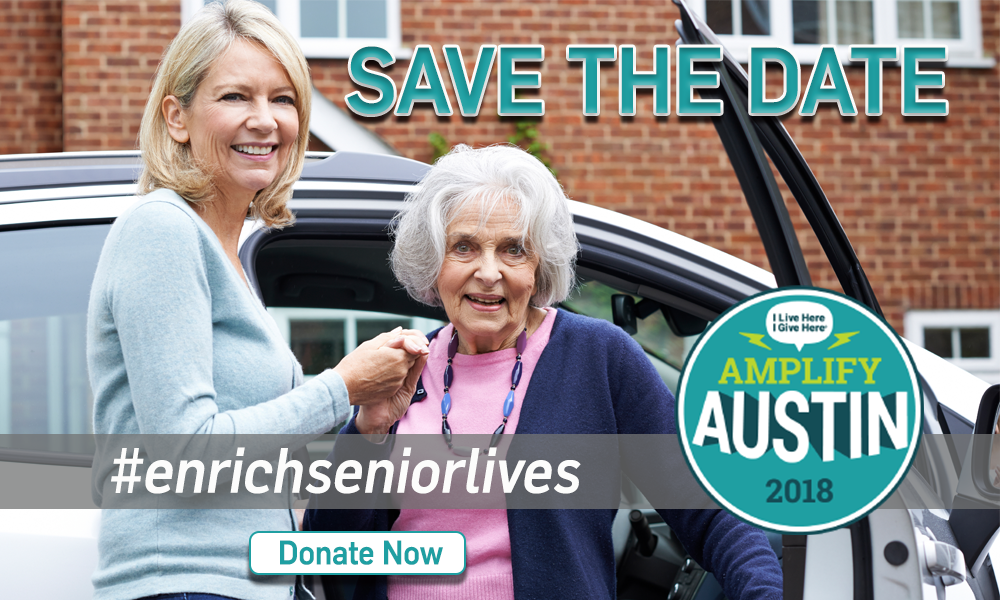 Join us for this annual online giving event, and donate to Drive a Senior Southwest to provide FREE RIDES FOR SENIORS in Westlake, Lake Travis, Lakeway, Bee Caves and Oak Hill.
This year, one of our very generous donors will match every dollar you donate at 100% up to $15,000. Give $250 and it will instantly become $500.
And, St. David's Foundation will make your money go even farther by providing additional matching to your gift. Let's drive this campaign home in 2018 to enrich the lives of seniors in your area.
TRANSPORTATION: THE KEY TO HEALTHY AGING IN PLACE
Healthy Aging In Place. That's what Drive a Senior Southwest is all about. The greater Austin area has one of the fastest growing populations of adults over 65 in the U.S. and many of those older adults no longer drive. With your help, in 2018 Drive a Senior Southwest will help over 210 seniors in southwest Austin and Travis County continue living independently by providing over 5,200 free rides and help with minor home repairs and yard work.
We drive seniors to their medical and wellness appointments and, just as important, to other commitments and activities that are vital for their well-being.
OUR GROWING VAN PROGRAM
Thanks to the generous support of St. David's Foundation, we continue to expand our efforts to help seniors age in place with our new ten passenger van!
The Drive a Senior Southwest van program provides our clients a chance socialize and shop at their neighborhood HEB grocery store. We drive to the Bee Cave HEB on Monday mornings, the Westlake HEB on Monday afternoons, and also now drive our Lakeway clients to the Bee Cave HEB on Wednesday mornings. On Thursday morning we make a van run to the HEB at the Y in Oak Hill.
Join our volunteer team or donate today!
austin SOUTHWEST
Serving the region to the Southwest and West of the Colorado River. West of Mopac including West Lake Hills, Rollingwood, Lost Creek, Barton Creek, Bee Cave, Lakeway, The Hills, and other neighborhoods in Oak Hill and south of Lake Travis.
WEEKLY VAN SCHEDULE
MON
(a.m.) HEB at Bee Cave and 71
(p.m.) HEB at Westlake and 360
TUE
WED
  (a.m.) HEB at Bee Cave and 71 (for Lakeway clients)
THU
 (a.m.) HEB at 71 and 290
FRI
Passengers who want to ride with the vans need to reserve their seats in advance by calling 512-364-6501.
VOLUNTEER SOME OF YOUR TIME: Even if driving's not your cup of tea there are a world of ways to help your homebound senior neighbors. Are you good with a wrench? Join our brigade of part- time handymen. Like to visit? Make occasional home visits; they're always welcome. Like spending time on the phone? Check in with a senior neighbor who'd love a chat? How about helping out in our office part time? Assisting in our next fund-raiser? Passing out flyers? If you have the time, we have the task.
PROVIDE FINANCIAL SUPPORT: Donations make it possible for Drive a Senior to serve our nearby senior citizens and to plan to continue that service  as the needs grow.
Healthy Aging Donations …
Please help us help your family members, friends and neighbors maintain their independence and quality of life when they no longer drive!
Spread that smile around …
AmazonSmile is a simple and automatic way for you to support Drive a Senior Southwest every time you shop. Amazon will donate a portion of the purchase price directly to us simply by choosing Drive a Senior Southwest from their approved list.
Just Click Here and enter your email and Amazon password.
Reward us too …
You already save money with your Randall's Remarkable card. But you can also make money for Drive a Senior with your grocery purchases. Visit the Courtesy Booth at your Randall's and add our number (below) to associate our cause with your card. Randall's will send a check  for 1 per cent of all grocery purchases by Remarkable Card holders who add our number. You only need to add the number once. Here's that number: 012531 
YOUR LOCAL DRIVE A SENIOR
3801 N. Capital of Texas Hwy #E240-77 | Austin, TX 78746
sw@driveasenior.org
512-364-6501  EIN #: 26-2735793

OUTREACH & DEVELOPMENT DIRECTOR | Michaelanne Hurst
OPERATIONS MANAGER | Ashley Razook
SERVICES COORDINATORS | Mary Kathryn Kane, Sherri Patten
VAN COORDINATOR | Mary Kathryn Kane
BOARD
CHAIR | Bill O'Brien
TREASURER | Martha King
SECRETARY | Paula Klante
PAST CHAIR | Mary Sue Clyne
MEMBERS | Roger Hamm, Ginny Murphy, Cathy Romano 
EMERITA MEMBERS | Kerri Oswald, Mary Pat Smith
SPONSORS
We appreciate the generous support of these local sponsors and congregations.